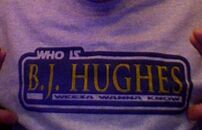 When Ahmed Best did not return to play Jar Jar Binks in
The Clone Wars
,
B.J. Hughes
was chosen to take over. Almost immediately, fans grew upset over the poor quality of Hughes' Jar Jar voice, and began to wonder who this new actor was. Research conducted by numerous parties (most notably
Jimmy Mac
) produced no information, and to this day, nothing is known about B.J. Hughes other than his role as Jar Jar in
The Clone Wars
. Some have speculated wildly that "B.J. Hughes" is a pseudonym for
Dave Filoni
himself.
The mystery of Hughes' identity led to the "Who Is B.J. Hughes?" running joke on The ForceCast.
External links
Edit
Ad blocker interference detected!
Wikia is a free-to-use site that makes money from advertising. We have a modified experience for viewers using ad blockers

Wikia is not accessible if you've made further modifications. Remove the custom ad blocker rule(s) and the page will load as expected.