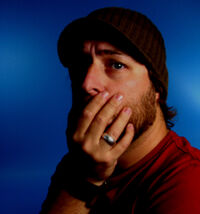 D. Martin Myatt joined the Rebelscum team in 2000 and is the site's key photographer. His work can be seen in Rebelscum's coverage of San Diego Comic-Con (2003-present), Toy Fair (2005-present), and Star Wars Celebration (2005-present). Myatt is also the content manager and lead photographer of the Rebelscum Photo Archive, and heads the Hasbro, Sideshow Collectibles, Kotobukiya, and Vintage Kenner sections.
In addition to his Star Wars work, Myatt was the creative director of Rebelscum's toy collecting sister site Cool Toy Review from 2007-2014. He lives in Vancouver, British Columbia.
External links
Edit
Ad blocker interference detected!
Wikia is a free-to-use site that makes money from advertising. We have a modified experience for viewers using ad blockers

Wikia is not accessible if you've made further modifications. Remove the custom ad blocker rule(s) and the page will load as expected.