ForceCast apps are available on iOS and Android, allowing owners of compatible devices to get ForceCast content on the go.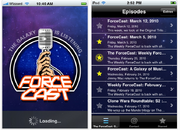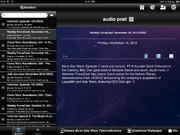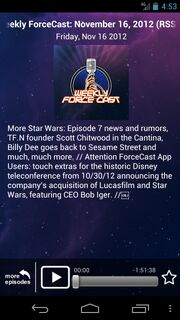 Bonus content: Occasionally, extra content is released as an "app exclusive."
Early access to regular episodes: Normal episodes are sometimes available on the app before they appear in the RSS feed and on iTunes.
Quick contact links: The app features links to Twitter, Facebook, and ForceCast.Net. "Call the Show" and "Email Show" links also provide direct access to those contact options.
Favorite/"Starred" shows: App users can save a list of their favorite episodes by "starring" them.
Background playback: Episodes will continue streaming in the background even if the user switches to another app.
External links
Edit
Ad blocker interference detected!
Wikia is a free-to-use site that makes money from advertising. We have a modified experience for viewers using ad blockers

Wikia is not accessible if you've made further modifications. Remove the custom ad blocker rule(s) and the page will load as expected.