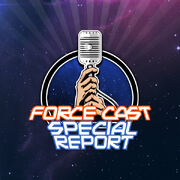 ForceCast Specials are standalone episodes recorded for special occasions. This includes conventions like Celebration, Fan Days, C2E2, and Comic-Con; breaking news; long interviews; film commentaries, Year-in-Review shows, and "Holiday Special" episodes.
Specials should not be confused with Microcasts, which are standalone episodes that are better considered "miscellaneous" than "special."
Full articles for ForceCast Specials can be found here.
External links
Edit
Ad blocker interference detected!
Wikia is a free-to-use site that makes money from advertising. We have a modified experience for viewers using ad blockers

Wikia is not accessible if you've made further modifications. Remove the custom ad blocker rule(s) and the page will load as expected.