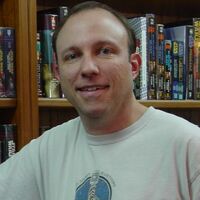 Jay Shepard is a writer and book reviewer for Rebelscum.com. He manages Rebelscum's Jedi Journals literature database and hosts a ForceCast program of the same name with Chris Wyman. In the past, he hosted numerous episodes of the What's New In The EU? Microcast.
Shepard lives near Baltimore, Maryland.
External links
Edit
Ad blocker interference detected!
Wikia is a free-to-use site that makes money from advertising. We have a modified experience for viewers using ad blockers

Wikia is not accessible if you've made further modifications. Remove the custom ad blocker rule(s) and the page will load as expected.