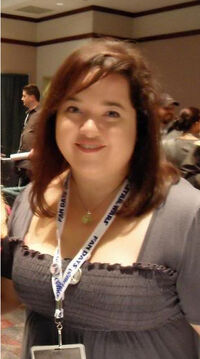 Mandy Bulat was the Interview Coordinator for TheForce.Net. She interviewed numerous Star Wars personalities for TFN, including Dave Filoni, Kyle Newman, Bonnie Burton, Dark Horse Comics' Radley Stradley, author Daniel Wallace, voice actress and fashion designer Ashley Eckstein, and artist Katie Cook.
In addition to making several appearances on The Clone Wars Roundtable, Bulat was also an Associate Producer for The ForceCast. She helped organize the live shows at Celebration V and, because she had driven down to Orlando, occasionally provided her courier services to the TFN/RS/FC team. A recurring joke on the podcast following CV was that Bulat's driving nearly ended TFN, Rebelscum, and The ForceCast during a harrowing ride to the TFN/FanForce CV Party.
Bulat has the distinction of being the only TFN/Rebelscum/ForceCast staff member to be tuckerized and adapted into Star Wars canon. Author Daniel Wallace used her name as the inspiration for Jedi Seer Sabla-Mandibu, an in-universe contributor to The Jedi Path.
Personal life
Edit
A graduate student, Bulat lives and works in the Atlanta area. She once said of herself, "I enjoy the company of men and have an obsession with Marvel comics."
External links
Edit