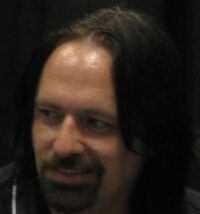 Paul Bateman is an artist who works for The Art of Ralph McQuarrie. He has also worked on numerous major motion pictures including Harry Potter and the Sorcerer's Stone and Star Wars: Episode III - Revenge of the Sith. He has appeared on The Clone Wars Roundtable numerous times. His most famous remark on the show was that the music of composer John Williams is "the oxygen of Star Wars." Paul is also well known for repeatedly using the word "awesome" during the 2010 ForceCast April Fools Microcast.
External links
Edit
Ad blocker interference detected!
Wikia is a free-to-use site that makes money from advertising. We have a modified experience for viewers using ad blockers

Wikia is not accessible if you've made further modifications. Remove the custom ad blocker rule(s) and the page will load as expected.