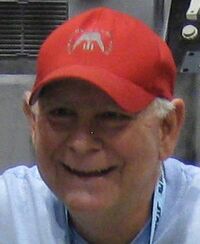 Philip Wise is the webmaster of TheForce.Net and Rebelscum.com. He is also a partner in C2 Ventures, Inc. with Ben Stevens. C2 Ventures operates Official Pix, a Lucasfilm-licensed autograph company, and a series of conventions in the Dallas, Texas area. In addition to running two of the biggest Star Wars news websites, Wise is notable for having one of the largest private collections of Star Wars memorabilia in the world.
Ad blocker interference detected!
Wikia is a free-to-use site that makes money from advertising. We have a modified experience for viewers using ad blockers

Wikia is not accessible if you've made further modifications. Remove the custom ad blocker rule(s) and the page will load as expected.