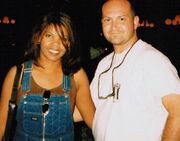 Sonny Goodwyne, better known as Sonny from New Orleans, is a famous ForceCast fan best known for his voicemails. His messages have provoked substantial laughter from Jason and Jimmy when played on the air.
Goodwyne is notable for inspiring a Jimmy Mac Investigative Report. On the September 25, 2009 weekly show, He wrote in to tell Jason and Jimmy that an episode of the remastered Star Trek series used the famous lightsaber clashing sound. He also wrote into the show numerous times in response to disparaging remarks that Harrison Ford made about Han Solo.
On The Weekly ForceCast's three-year anniversary episode, Goodwyne wrote in with the story of how he first discovered the show. He had lost his home during Hurricane Katrina and was forced to take a new job which required a very long commute. He found the show very early on and used it as his "escape from reality" during his long work commutes.
Ad blocker interference detected!
Wikia is a free-to-use site that makes money from advertising. We have a modified experience for viewers using ad blockers

Wikia is not accessible if you've made further modifications. Remove the custom ad blocker rule(s) and the page will load as expected.